Kim Kardashian West is fully embracing the next phase of her life.
In a new interview with New York Magazine for their cover story looking back on the last 10 years of her life (we feel old!), the 39-year-old admitted she's ready to start cutting back on her sexy swimsuit shoots.
Yep, the queen of thirst-trapping is saying goodbye to thong bikinis and hello to turtlenecks on the regular!
The Keeping Up with the Kardashians star told the mag those risqué kinds of photos simply don't interest her anymore:
"I guess I just don't care as much anymore to want to take tons of photos in a thong bikini. I think I'm evolving to where I don't feel the need to want to keep up."
As our readers know, the momma of four is a staunch criminal justice advocate and currently studying to become a lawyer. It's become clear her priorities have shifted towards the greater good and it sounds like she wants her social media feed to reflect that, too.
KKW said she just wants to lay low, now, instead of doing it for the 'gram whenever she's on vacation:
"I actually just want to lay out. I don't care to take the time out of my day on vacation like I used to, where I'd pull up to the house and I'd see, 'This is a setup, this is an Instagram pic. Now this is a different setup.' Now I'm just like, 'Let's actually live in real time and enjoy it. If we happen to get a photo, great.'"
The reality TV starlet said she truly had an "awakening" when she noticed she couldn't look at Instagram without scrolling past super-revealing photos of women on her feed.
"I realized I could not even scroll through Instagram in front of my kids without full nudity coming up on my feed pretty much all the time."
Wait, is this the pot calling the kettle black??
In a moment of self-awareness, Kardashian West admitted:
"And I definitely contributed to that. I mean, one of my most iconic covers was the Paper magazine one, when I was all oiled up and ripping my dress off."
Ahh. We were about to say! 'Cause we certainly can't forget this moment: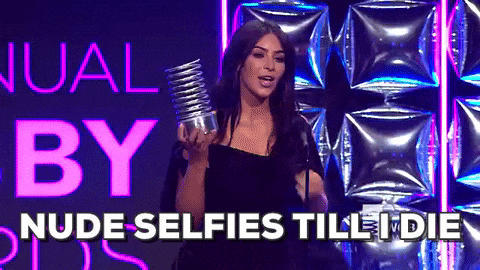 As we mentioned earlier, Kim's recent career shift and frequent visits with lawmakers and President Donald Trump had an effect on her decision:
"I also did think, like, 'Okay, I'm here in the White House and then the next day I was posting, like, a crazy bikini selfie. And I was thinking, I hope they don't see this.' I have to go back there next week."
Not to mention, husband Kanye West will definitely approve of his wife's updated fashion choices! She explained:
"I saw this whole thing where it's like, 'She's so demure, and she's covered.' And I was like, 'Guys, I had a shearling coat on and a turtleneck because it's, like, freezing.' But I think I have a little bit. I don't know if it's the fact that my husband has voiced that sometimes too sexy is just overkill and he's not comfortable with that. I listen to him and understand him. Still, at the end of the day, he always gives me the freedom to be and do what I want."
Inneresting! Well, let's get a good look at the "demure" Mrs. West on the outlet's cover, here:
Very modest, yet still, very chic!
Quick note: our readers will notice the star's page is still filled with revealing images as promotion for her Skims shapewear collection. But, it appears those aren't too racy for her updated image! (AKA, she's still gotta make money. LOLz.)
Since we supposedly won't be seeing any more revealing pics on Kim's page, join us in looking back at some of her most jaw-dropping looks and RANK them in our quiz, (below)!
[Image via Instagram]
Related Posts
CLICK CLICK CLICK Next Article
Original Article : HERE ; The Ultimate Survival Food: The Lost Ways
The best offers on the market today:
Amz Authority Zone Premium Membership
Yankee Profits
Work At Home Assemble & Crafts Jobs!
Adelgazar Para Siempre Ebook